Project and Water News
May 6, 2015
Teachers: register now for Hackathon
On June 16, Rowland Hall in Salt Lake City will host an "Ed Camp/Hackathon" for educators interested in maker spaces, computer science and STEM education. The event will include various options including high- and low-tech materials for a design-build challenge. The event is free but registration is required and space is limited.
More Information...
---
April 28, 2015
Free premiere of film Utah's Uncertain Future
Be among the first to see Utah's Uncertain Water Future, to premiere at the Utah Museum of Contemporary Art at 7 p.m. on Tuesday, May 5. The half-hour documentary forecasts Utah's challenging water future. The screening will be followed by a panel discussion moderated by KUER writer-producer Judy Fahys.
More Information...
---
April 24, 2015
Tune in for Water Week 2015 on UEN-TV!
As an education and outreach partner for CI-WATER, UEN-TV is proud to broadcast its 4th annual Water Week. Please check out and share the program schedule—it features 20+ programs with educational tie-ins to a wide range of topics and age groups, all seen through the lens of water.
Find UEN-TV in your area: http://www.uen.org/tv/translators/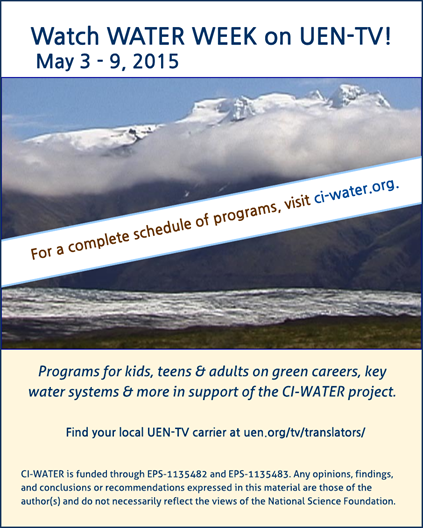 ---
April 17, 2015
New CI-WATER apps in development
To improve access to high-performance computing for water resource managers and researchers, CI-WATER is developing a suite of resources that will be released over the coming months.
The Tethys App Development platform, released earlier this year, is being joined by Tethys Cluster, ADHydro, HydroGate, and more. Numerous apps and models are being created as well, such as the Canned GSSHA App, TMaps Tool and App, Observed Data App, and the ECMWF-RAPID Flood Prediction Tool.
The models and apps serve as use-cases for the development tools and as resources that water managers and researchers can use as-is or adapt to their own needs.
More Information...
---