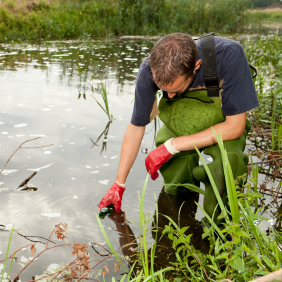 STEM Careers
Science, Technology, Engineering and Math (STEM) careers have numerous benefits including employment rates that are higher than average, the ability to make a difference to your community and a wide variety of potential work environments. Whether you love getting your feet wet and hands dirty in the field or prefer an air-conditioned computer lab, there's something for everyone in STEM! Most jobs require a Bachelor's degree, and some require more advanced certification.
Aquacultural Manager
Oversee hatcheries for raising fish and other seafood for human consumption.


Aquarist
Manage aquariums, ensuring a clean and healthy environment for animals and plants.


Atmospheric Scientist
Study the atmosphere's physical characteristics, motions, and processes and how they impact the environment.

Cartographers and Photogrammetrists
Collect, measure, and interpret geographic information to create maps and charts for political, educational and other purposes.


Civil Engineer
Design and oversee construction of roads, bridges and railroads, with specialties including Environmental Engineering and Hydraulic engineering, which focuses on developing structures around water such as bridges, dams and levees.


Chemists
Analyze the compounds made from carbon-based molecules that appear in daily life, including water systems.


Computer Programmer
Create, modify and test the code, forms and scripts that allow computer applications to run. Could focus on developing computer programs specifically for data related to water and analyzing water samples.


Conservation Scientist
Improve, manage and protect natural resources, such as water.



Database Administrators
Use specialized software to store and organize data, such as financial information and customer shipping records and help ensure that data are available to users and are secure from unauthorized access.

Environmental Compliance Inspector
Ensure companies, individuals and governments follow governmental laws and regulations on pollution.

Environmental Engineer
Prevent, control and improve environmental hazards through engineering designs that address specific problems.

Environmental Scientist
Research the impact of pollution on the environment, people and animals.

Geoscientist
Research the composition and structure of the earth to better understand the properties of land such as water, land and petroleum.

Hydroinformatics
Use information from communication technologies to help improve water resource management.

Hydrologist
Study underground and/or surface water to find the amount of precipitation and other conditions that effect water availability and quality.

Marine Engineering
Work closely with naval architects to design equipment that makes ships run effectively.


Mathematician
Create models to solve practical problems in fields such as business, government, engineering and the sciences.

Naval Architect
Design ships, determining size, shape, propulsion, weight and other features.

Network and Computer Systems Administrators
Oversee day-to-day operation of computer networks and systems, which are critical parts of almost every organization.

Soil and Water Conservationist
Research ways to optimize how soil and water are used.

Statistician
Help design surveys and experiments by collecting, analyzing and interpreting numerical data.

Surveying and Mapping Technicians
Assist surveyors, cartographers and photogrammetrists in mapping the earth's surface using geographic data.



More information about STEM careers: