Project and Water News
March 4, 2015
New CI-WATER teacher resources available
New tools for incorporating CI-WATER science into K–12 teaching and learning are now available. Developed from the CI-WATER Summer Institute for Teachers by the University of Utah's Genetic Science Learning Center, online interactives, videos and more help build understanding of how scientists create and use models to predict water resource availability.
During the Summer Institute, science teachers from Wyoming and Utah learned about CI-WATER research from project scientists in both states. Teachers explored the CI-WATER Teaching Toolbox and brainstormed ways curricula could integrate water and computer science methods and concepts into lessons that address core standards.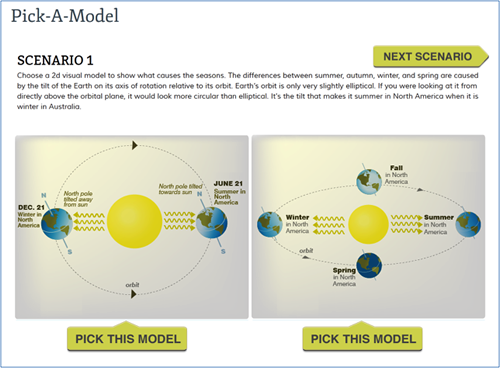 The new resources include interactives that engage learners in exploring the challenges of watershed modeling.
More Information...
---
February 27, 2015
Check out CI-WATER's Modeling Apps & Tools
CI-WATER.org has a new one-stop portal for water modeling applications and tools. In the months to come, we'll be adding links to more great tools like our Tethys app development platform. Want to receive updates when new content is added to the portal? Sign up here...
---
February 19, 2015
Educators: register your school for the Flame Challenge
February 27 is the last day schools can register to participate in the 2015 Flame Challenge, a contest in which 11-year-olds judge how well science communicators answer the question "What is Sleep?"
The contest is sponsored by the Alan Alda Center for Communicating Science, an organization that helps scientists improve their communication skills and connect with public. Previous winners satisfied their youthful adjudicators' curiosity with videos, writing and graphics explain Flame, Time and Color.
More Information...
---
February 9, 2015
PRODUCT RELEASE: Tethys platform now available for use
CI-WATER is pleased to announce the achievement of a major project milestone with the public release of the Tethys Platform for water resources web application development. Designed to make it easier for developers to turn models and data into interactive apps, Tethys is a flexible, accessible solution that eases the learning curve needed to create the tools water resource analysts need.
Tethys has already been used by CI-WATER modelers to create the Parleys Creek Management Tool described in the CI-WATER newsfeed article "Project Update: Collaboration leads to integrated water management tools" (Sept. 27, 2014). Soon, CI-WATER researchers at the University of Wyoming will be collaborating with Brigham Young University's Tethys development group to visualize their output data sets.
Lead developer Nathan Swain says, "That will present a fun challenge because they have really huge data sets."
Even more exciting, the platform is receiving attention from the broader water science community. Nathan's group is currently preparing for National Flood Interoperability Experiment (NFIE) at which numerous graduate students in hydroinformatics will gather for what Nathan calls "kind of a hack-a-thon."
"The goal of our participation in NFIE is to promote Tethys as a tool for other participants and apply it to a relevant, real-world problem," Nathan says.
To access Tethys, visit http://tethys.ci-water.org/. Note that users can subscribe to receive email updates.
---