Project and Water News
May 23, 2017
"E" in EPSCoR changed from Experimental to Established
A name change has been announced for the federal Experimental Program to Stimulate Competitive Research programs, known as EPSCoR. The American Innovation and Competitiveness Act (AICA) (S. 3084) passed in January renames the programs as the Established Program to Stimulate Competitive Research (EPSCoR) and revises program requirements.
Effective immediately, iUTAH EPSCoR now stands for innovative Urban Transitions and Aridregion Hydro-sustainability Established Program to Stimulate Competitive Research. The name change will be reflected on the project's website, communications, and publications in the near future.
iUTAH EPSCoR is an interdisciplinary research, training, and education program aimed at strengthening science on vital environmental issues facing our state, specifically water sustainability. We partner with the National Science Foundation EPSCoR program to develop and manage strategic projects funded by competitive NSF EPSCoR awards to the state.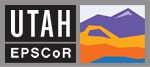 ---
September 19, 2016
CI-WATER researchers win "Coolest Paper" award
A paper describing the discovery of an alternative to a decades-old partial differential equation (PDE) has garnered additional recognition for CI-WATER researchers Fred Ogden, Wengcong Lai and Robert Steinke. "A new general 1-D vadose zone flow solution method" has been selected for "The Coolest Paper Published in 2015 Award" by the Early Career Hydrogeologists' Network.
More Information...
---
September 12, 2016
Annual Utah Water Summit
The 23rd Annual Utah Water Summit, co-sponsored by the Utah Water Users Association and Utah Water Conservation Forum, will be Tuesday, Oct. 25, at the Utah Valley Convention Center in Provo, UT.
---
March 4, 2016
Educators: Register now for free CI-WATER professional development course
Science teachers for grades 8 through 12 are invited to register for CI-WATER for Science Educators, a two-hour professional development workshop for integrating water science and modeling resources into the science curriculum.
The workshop will be held at the Hogle Zoo Education Center on Wednesday, March 9, 2016 and Tuesday, April 5, 2016 from 4 to 6 p.m. The event is free to participants but seating is limited, so reservations are required. Reservations must be made by Tuesday, March 8, 2016. Thanks to new video conferencing technology at Utah's Hogle Zoo this workshop is also available to any school district with a UEN Interactive Video Conferencing System.
Participants will learn about CI-WATER educator resources and engage in activities they can bring to their students.
"Water is no longer something we can simply take for granted. This workshop will help teachers prepare students for the future in which computer modeling will play an even greater role in water resource management," says Chris Schmitz, Education Curator Utah's Hogle Zoo.
Date: Wednesday, March 9, 2016 and Tuesday, April 5, 2016
Time: 4:00-6:00 PM
Where: Utah's Hogle Zoo and via UEN Interactive Video Conferencing
To register for either workshop or for more information, email or call Utah Hogle Zoo's Kelly Gallo, 801-584-4562.
---